New signups to UBook, our tailor-made NHS room booking system
Blackburn with Darwen and East Lancashire Clinical Commissioning Groups (CCGs) have become the latest customers to sign up for our state-of-the-art room and hot desk booking system, UBook.
In Spring 2021 the CCGs' corporate and estates leads approached the Midlands and Lancashire Commissioning Support Unit (MLCSU) as they were investigating new ways to promote agile, office-based working and realised that they needed a powerful and responsive booking system.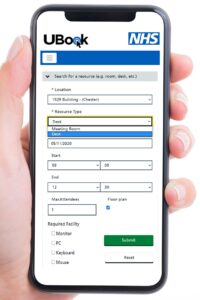 MLCSU's Applications Development team is currently digitising the CCGs' floor plans to populate the richly-featured interactive system which can be accessed from any browser, desktop, tablet or smartphone. UBook will be deployed across their sites during the summer of 2021.
Nine organisations have now subscribed to the system, which is currently processing bookings for thousands of rooms and desks. Across these clients some 10,000 members of staff are regularly using UBook to manage the booking of meeting and treatment rooms, hot desks, parking spaces, bike racks, projectors, pool vehicles and other physical resources.
The latest version of UBook, launched in 2020, was specifically designed for NHS organisations which needed efficient, easy-to-use administrative systems at a sensible cost.
The latest version of the system includes hot desk booking with social distancing and information-rich reports which can help to inform detailed estates planning. These new features have helped clients to manage the changing demands upon their resources during the COVID-19 pandemic, particularly around staff returning to work after lockdown restrictions were lifted.
Birmingham and Solihull Mental Health Foundation Trust signed up to UBook last year after deciding to introduce one simple booking system to replace several procedures across its sites. As the COVID-19 pandemic unfolded they took full advantage of the system's flexibility, which allowed safety measures to be quickly implemented.
Their UBook pilot scheme, launched in October 2020, allowed bookable desks to be removed from the system to comply with social distancing regulations. The system's interactive floor maps showed staff which desks were available at any given time and the system automatically locked out desks for 72 hours after each use to ensure that they were COVID-free before being used again. Other UBook clients tie this window into local cleaning rotas to ensure desks are cleaned after each use.
QR codes were also introduced at the Trust to allow staff to check in from mobile devices rather than the planned touchscreens.
Amanda Tierney, Project Manager at Birmingham and Solihull Mental Health Foundation Trust, said: "MLCSU have been exemplary in their commitment to making the system work for our needs. The admin staff find it extremely useful and very easy to use and the ward staff are all positive too.
"I've learned so much from working with you and I'm extremely grateful, I couldn't recommend you highly enough. I think that UBook is phenomenal and will benefit any organisation or trust that uses it."
MLCSU Application Development Business Manager, Bill Douglas, said: "At MLCSU we were delighted to assist the Trust in its move to a unified room and desk booking system. As ever, we captured new ideas from those who manage estates and clinical functions and built those into the latest feature set."