Referral Management Centre
Home » Our expertise » Referral Management Centre
The Referral Management Centre (RMC) provides a range of services on behalf of Integrated Care Boards (ICBs), NHS trusts, and place-based organisations to support patients and service users.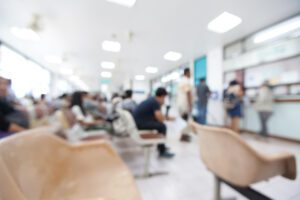 The RMC offers a critical service by independently booking appointments for GP and optometrist referrals in Central Lancashire, Fylde Coast, St Helens, and Warrington. The RMC also books patient transport services for the North West Ambulance Service to ensure eligible patients receive the appropriate mode of transportation to their appointments. Our dedicated bookings team is available to take bookings from 8 am to 6 pm, Monday to Friday.
In collaboration with our Digital Innovation Unit, the RMC leads the "Waiting List Validation" work for Integrated Care Systems and NHS Trusts. This involves using chatbot technology and transferring patients in real-time to call operators to assess their appointment needs and whether their symptoms have changed. Since 2021, we have completed over 20,000 patient validations, saving valuable time and resources. 67% of patients were happy with a telephone consultation, and 11% no longer needed to be on the waiting list.
The RMC is also taking the lead on the Digital Weight Management national program on behalf of NHSE/I to support patients in navigating the pathway and help GP practices with the referral process.
Our team of 70 people has diverse skills and expertise in patient pathway navigation, GP practice support, and backgrounds in both the NHS and independent sector providers.