Two awards at the HSJ Patient Safety Awards

Home » News » Two awards at the HSJ Patient Safety Awards
We are thrilled to announce that our Medicines Management and Optimisation team has won two awards for Improving Medicines Safety and Learning Disabilities Initiatives of the Year at this year's HSJ Patient Safety Awards which recognises safety, culture and positive experience in patient care.
A record-breaking 516 entries were received for the HSJ Patient Safety Awards 2023, with 206 organisations, projects and individuals making it to the final shortlist, following two rounds of rigorous judging. The high volume – and exceptional quality – of applications once again showcased the level of commitment to patient care within the UK's healthcare networks.
Our Inhaler prescribing errors project won the award under the 'Improving Medicines Safety' category. This project focused on enhancing inhaler prescribing practice. Through a comprehensive audit of inhaler prescriptions, we discovered that ingredient duplication within the same therapeutic drug class was often overlooked as a potential interaction or cause of side effects. We identified 360 patients with inhaler ingredient duplication errors, and nearly one-third of these errors persisted even during respiratory reviews. Armed with these audit results, we engaged with individual practices and initiated a thorough review of prescribing policies. To prevent future errors, we developed an easy-to-use reference guide for inhaler prescribing and extensively educated staff in primary and secondary care as well as community pharmacy settings.
The second award won under the 'Learning Disabilities Initiatives of the Year' centred on promoting the Community of Practice Learning Disability and Autism pilot, which aimed to up-skill pharmacists working in primary care networks to conduct holistic structured medication reviews for individuals with a learning disability and/or autism. By providing extensive training and support, the pilot empowered primary care network pharmacists to deliver comprehensive medication reviews that consider the unique needs of these patients. This national project, co-produced with NHS England Health Improvement Pharmacy leads and the NHS Specialist Pharmacy Service, not only identified the learning and development needs of pharmacists but also delivered a model of support and collected data to demonstrate its success. The positive feedback received from participants and users further validated the effectiveness of this model, making it an ideal candidate for wider implementation.
The judging panel was made up of a diverse range of highly influential and respected figures within the healthcare community. All finalists and winners were judged against three clear criterias; clinical and specialist excellence; enacting organisation-wide change and service/system innovation.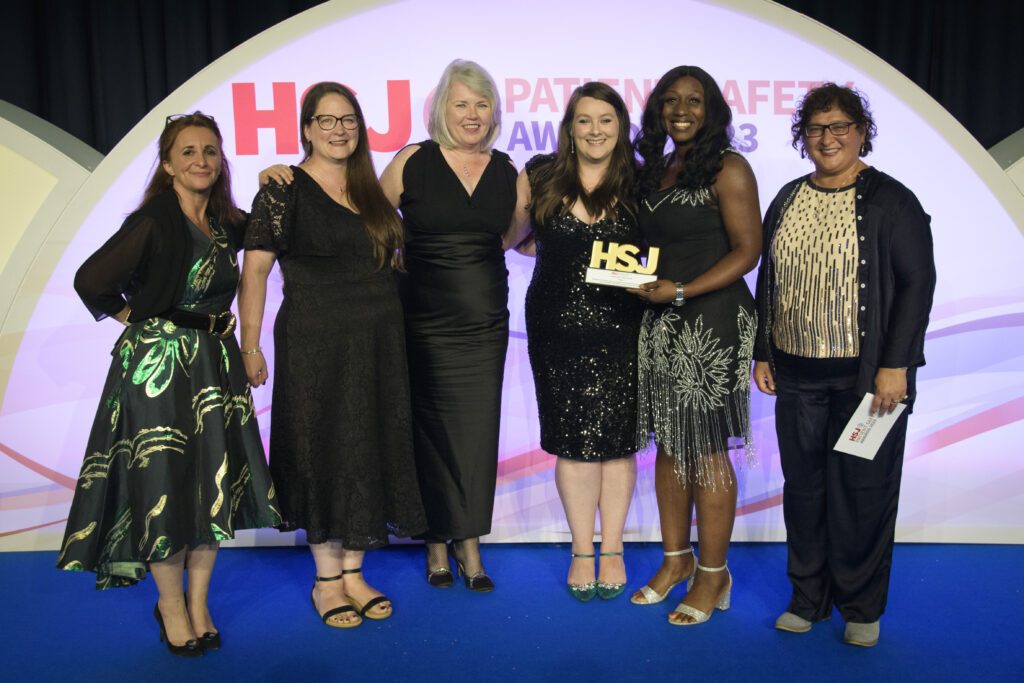 On receiving these accolades, Jonathan Horgan, our Director of Pharmacy Services, commented:
"We are so pleased to have achieved three finalist entries, leading to two winners at this years HSJ Patient Safety Awards. This is a great accolade for the staff, for MLCSU and a reflection of our commitment to excellence in medicines management and optimisation. Our Medicines Management and Optimisation team prioritise patient safety above all, ensuring every individual receives the highest standard of care. Achieving these HSJ Patient Safety Awards demonstrates that we are achieving our aims; to support NHS innovation, to work seamlessly in partnership and to share best practice in the NHS. We will continue to strive to be the best care support partner in the NHS."
Paula Wilson, Associate Director of Pharmacy Services, commented:
"I am so happy our team's work has been commended at these prestigious awards, both as finalists and winners. The improvements we have made to patient care, particularly in areas of safety and health inequalities, have been recognised and are hopefully an inspiration for similar projects across the NHS. Our partnership working approach has enabled our success. I would like to thank our team for their continued dedication to transform and deliver improved services to the population and improve health and wellbeing and thank our partners for their collaborative support."
NHS Midlands and Lancashire CSU (MLCSU) also had two finalist projects at the awards:
1. Reducing mortality project. The initiative aimed at reducing mortality in people with learning disabilities and epilepsy was shortlisted for the Learning Disabilities Initiative of the Year at this year's HSJ Patient Safety Awards.
2. Improving the safety of patients prescribed clozapine. This project focused on enhancing the safety of patients prescribed clozapine, a vital medication for managing specific mental health conditions.
A full list of all our awards and recognitions can be viewed on the MLCSU awards and recognitions page.