Workforce project shortlisted for Nursing Times award

Home » News » Workforce project shortlisted for Nursing Times award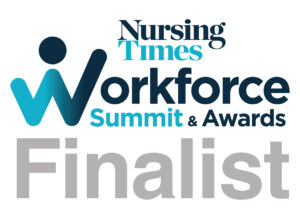 We are extremely proud our Recruitment and our Continuing Healthcare and Individual Patient Activity (CHC/IPA) teams, together with NHS Englands and Improvement (NHSEI), formed a joint venture which has been shortlisted for the Workforce Team of the Year category of the Nursing Times Workforce Awards 2021.
The awards bring together talent in workforce planning and recognise those making a difference in recruitment, staff retention, wellbeing and inclusion.
The project for which we were shortlisted, the NHS CHC Workforce Development programme, saw NHSEI and the Midlands and Lancashire Commissioning Support Unit work in partnership. We developed a virtual workforce via the Bring Back Staff returners programme. Our rapid recruitment, induction and training process brought candidates onboard in two to four weeks to begin roles with partner organisations. Candidates were sourced from many healthcare professions and came with a wealth of valuable experience. This blueprint for CHC workforce development recruits healthcare professionals considering CHC as career option, retaining their skills and knowledge within the NHS.
The awards ceremony takes place on Wednesday 17 November 2021. Well done to our colleagues in CHC/IPA, the Recruitment team and to all other finalists on the shortlist.