MLCSU collaboration project shortlisted for HSJ award

Home » News » MLCSU collaboration project shortlisted for HSJ award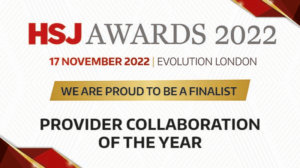 The HSJ Awards 2022 finalists were announced today, and the NHS Midlands and Lancashire CSU's (MLCSU's) joint project with the Greater Manchester Integrated Care Partnership (GM ICP) was shortlisted for Provider Collaboration of the Year. This award recognises work carried out to align priorities between organisations, which lead to greater efficiency and the development of person-centred services. 
Together, our two organisations worked in collaboration on a successful pilot to transfer smoking cessation care from hospital to community pharmacy.
In Greater Manchester, more than 5,000 people die each year from smoking related illnesses. Many live with the burden of smoking related diseases. Chances of quitting double if a stop smoking medicine is prescribed by a GP, pharmacist or other health professionals. 
 
The innovative Oldham pilot scheme bridged the gap between primary and secondary care, offering stop smoking support to patients when they are discharged from hospital. This collaborative approach supports the work of hospital staff, so patients continue their stop smoking efforts. 
The pilot ran until January 2022 and since it has been rolled out in pharmacies across England. 
Jonathan Horgan, Director of Pharmacy Services, said: "We are delighted to be selected as a finalist in conjunction with GM ICP for the HSJ awards. Smoking cessation remains critical to support better health for patients. Our work with GM ICP to deliver an effective pilot to support patients to quit smoking once they leave the hospital via community pharmacies makes a lot of sense. We are looking forward to seeing how this work supports the national roll out."
Rob Hebdon, Senior Medicines Optimisation Lead at MLCSU, added: "The smoking cessation transfer of care pilots represent a great example of cross organisational collaborative working. The outcomes of this have largely shaped how this service is being implemented nationally. So proud to have been involved and to have made the final shortlist!"
MLCSU has also worked with our partners to support several other projects and workstreams which have been shortlisted for HSJ Awards this year, including:
Workforce Initiative of the Year – Lancashire and South Cumbria Integrated Care Board, LAMP Programme
Covid Vaccination Programme Award – Herefordshire and Worcestershire ICS, Covid Vaccination Team
Innovation and Improvement in Reducing Healthcare Inequalities Award – Herefordshire and Worcestershire ICS, Tackling Inequalities through Covid vaccination
Innovation and Improvement in Reducing Healthcare Inequalities Award – University Hospitals Coventry and Warwickshire Trust, Waiting list Access and Inequalities Tool.
Congratulations and good luck to all HSJ Awards finalists!