Join us at The Pharmacy Show 2023

Home » News » Join us at The Pharmacy Show 2023
Join us at The Pharmacy Show on 15-16 October 2023 to learn how NHS Commissioning Support Units (CSUs) help health systems and care providers including in primary and community care to meet medicines optimisation objectives, improve patient care and increase efficiency.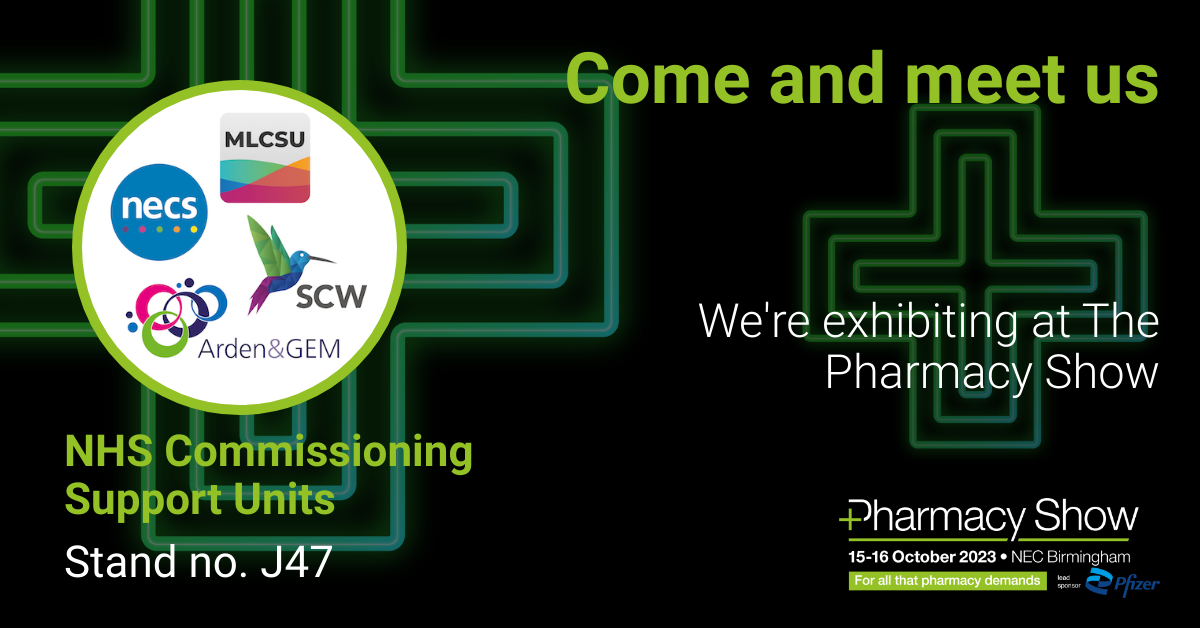 This year, the four CSUs – Arden & GEM, Midlands and Lancashire, South Central and West and NECS – are jointly exhibiting promising a hub of innovation and information at stand J47.
Make sure to also head to the Primary Care Theatre for our speaker session:
Session title: Pharmacy and medicines optimisation: A perspective from NHS Commissioning Support Units
Theatre: Primary Care Pharmacy Theatre
Date: Monday 16 October
Time: 12:55 – 13:25
The Pharmacy Show brings together pharmacy professionals for two days of learning to enhance your skills and help you deliver better support and outcomes for your patients.
Our team of experts will be on hand to provide personalised consultations and mentoring on our stand. Whether you have questions about our services and what CSUs do, want to discuss specific pharmacy challenges, seek advice on improving patient care or understand the career paths that CSUs offer, our experts are here to help.
We will also be sharing details about some of our most impactful projects where we have made a significant difference to patient lives and health system operations, including:
Mapping career pathways and progression for pharmacists and pharmacy technicians
Accelerating ICS implementation of the Discharge Medicines Service
Inhaler prescribing errors – do they matter?
Support to increase primary care referrals to the National Diabetes Prevention Programme (NDPP) within the Black Country ICS
Integrated delivery model for enhanced medicines optimisation support to care homes and domiciliary care providers in Tees Valley
Collaborative working to reduce opioid and gabapentinoid prescribing in North Cumbria
Community pharmacy hypertension case-finding pilot
Register now and join us to ensure you are doing what it takes to take your pharmacy or business to the next level. We look forward to seeing you there!