Insight to action: lessons from think tanks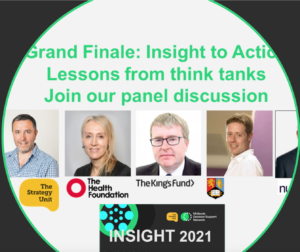 Join us tomorrow, 15 October for the grand finale of the Insight 2021 festival of analysis and learning.
'Insight to action: lessons from think tanks' brings together the leaders of the Health Foundation, The King's Fund, Nuffield Trust and the Strategy Unit for a panel discussion on how to move insight into action for the improvement of health services.
Insight 2021 is an annual festival of free events on learning and sharing for the NHS, local government and other partners across health and care. It is hosted by the Midlands Decision Support Network, in association with the Midlands and Lancashire Commissioning Support Unit's Strategy Unit.
The Midlands Decision Support Network exists to support health and care leaders generate insights from high quality analysis and evaluation and move these into action – better, evidence-informed strategic decisions in Integrated Care Systems.
But moving insight to action is challenging – particularly for those without a direct hand on the levers of power, such as think tanks and researchers. How do we ensure that the insights we generate get converted to meaningful change? What needs to be in place in health and care systems in terms of capacity, capability and culture? What can we learn from the experience of responding to the COVID-19 pandemic?
An expert panel of the leaders of the national analytical collaboration of think tanks, which worked to support the health and care system in the fight against COVID-19, explores these questions:
…alongside the Director of the newly formed IMPACT centre for implementing evidence in adult social care.
To register for the event, please complete your details on the Eventbrite page.
This year's festival is running from Monday 4 October until Friday 15 October, and includes a mixture of talks, workshops and panel discussions.
For more information and recordings of all the excellent sessions already taken place, see the full programme of events.