Insight Festival: join a session at shared learning festival, 4-15 October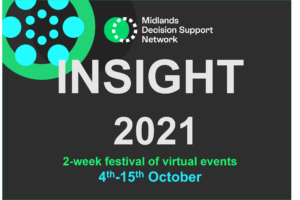 The Midlands Decision Support Network in association with the Midlands and Lancashire Commissioning Support Unit's Strategy Unit are hosting INSIGHT 2021, our annual festival of learning and sharing events for the NHS, local government and other partners across health and care.
This year's festival will run over a two-week period from Monday 4 October until Friday 15 October, and include a mixture of talks, workshops and panel discussions. The theme is Insight to action, bringing together inspirational regional and national speakers to explore how insights from high quality analysis can drive change in health and care systems.
Sessions will be delivered virtually. The festival is open to everyone working in health and care and every session is free.
Last year's festival had over 3500 attendees and was highlighted in the International Journal of Health Governance as one of the most 'interesting and inspirational' virtual conferences of 2020, alongside offerings provided by the World Health Summit, the European Observatory on Health Systems and the Nordic Health Movement. Recordings of the sessions are available in the knowledge library.
Attendees can commit as little or as much time as they'd like. Most of the sessions will be recorded so you can fit them into your schedule in a way that suits you.
Confirmed speakers include:
…with many more expected to be added in the coming weeks.
To register your interest:
Please complete your details on our Eventbrite page and we will share the full programme when it is available.
If you have any questions, please contact Rachel Caswell or Gareth Wrench.
Find out more about the festival in this voice clip with Peter Spilsbury, Director of the Strategy Unit, and Simon Bourne, Programme Director at the Midlands Decision Support Network.