platform:optimise – our next webinar tackling health and care challenges

Home » Webinars » platform:optimise – our next webinar tackling health and care challenges
Next up in our platform:x webinar series aimed at helping our partners tackle challenges and opportunities we are facing is platform:optimise on F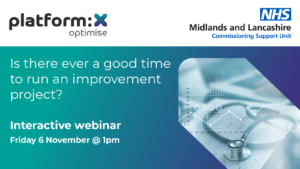 riday 6 November, 1pm.
The short, thought-provoking session will ask: 'Is there ever a good time to run an improvement project?' We'll be sharing key principles and useful tools for achieving sustainable results. We will look at how to get started, how to measure and evaluate the impact, and other ways we can help.
Our experts have achieved excellent results with rapid improvement projects and other local, regional and national improvement programmes, and are keen to share what they've learned from these.
To book a place, please use this short form and we'll follow up with everything you need to take part and get the most out of this lunchtime session.