Understanding mental health attendance in Emergency Departments

Home » Case studies » Understanding mental health attendance in Emergency Departments
Our dashboard on mental health attendance in Emergency Departments empowered commissioners and providers to identify care variations, establish baselines, evaluate initiatives, and enhance support, leading to improved planning and service delivery.
Background
Birmingham and Solihull Integrated Care System(ICS) wanted a concise dashboard to provide an overview of mental health attendance in Emergency Departments (ED), including baseline, trends, demographics, and care variations.
Action
We created an interactive dashboard that links data from urgent and emergency care and mental health services. The data is extracted and transacted using structured query language scripting.
Clinical codes were used to identify the relevant diagnosis, and the data was visualised using software called Tableau and posted on the data visualisation platform Aristotle. The dashboard reports on attendances in EDs with diagnoses related to mental health, drug and alcohol, or toxicology. The information plotted is limited to specific hospital sites and the local commissioner.
Below: An example of the dashboard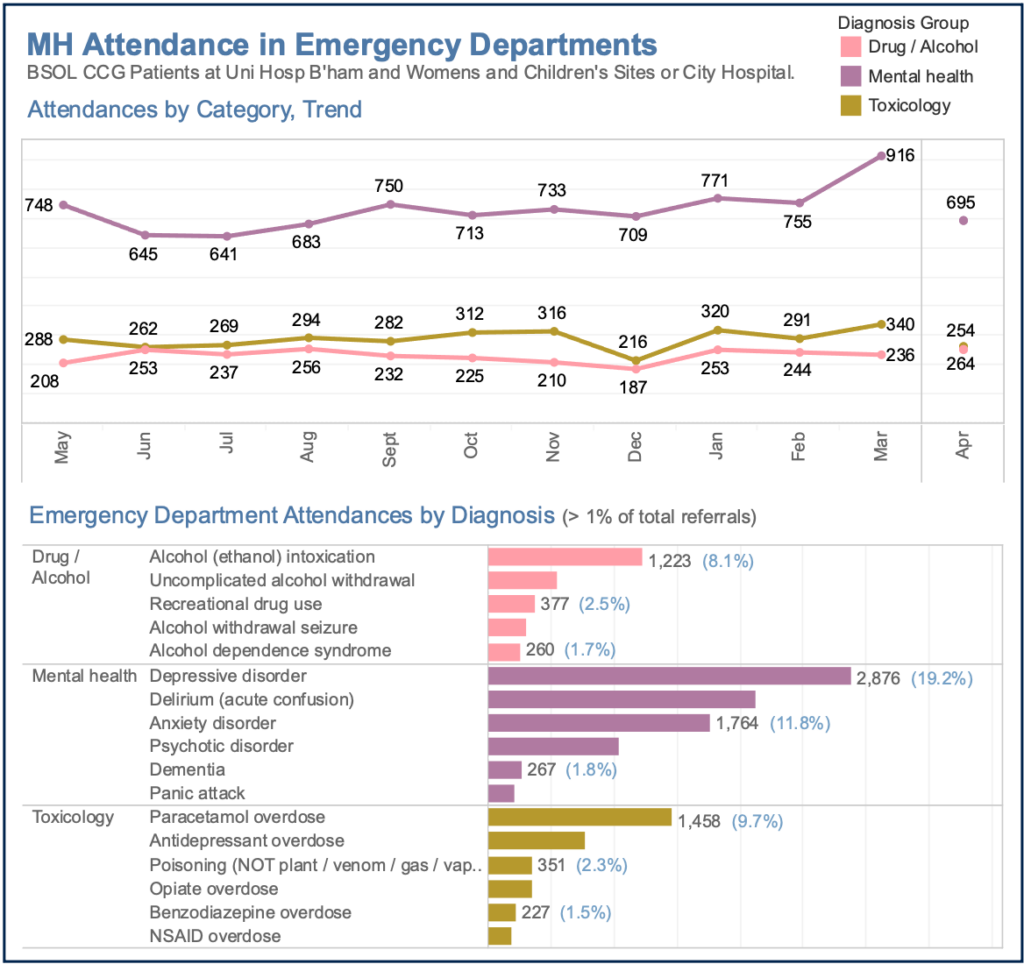 Impact
The dashboard offered information on mental health attendance in EDs throughout the ICS – why they attended and the treatment they receive.
It gave the commissioners the insight they needed to:
identify increases in mental health presentations and variations in care between hospitals
establish a baseline for reducing mental health attendance
assess the impact of diversion initiatives
examine patient demographics
evaluate the coverage and timeliness of Psychiatric Liaison teams supporting patients in EDs who are having a mental health crisis.
Commissioners and providers were able to quickly identify care variations and support the process of planning and delivering improvements to services.
Feedback
The report enables monitoring of attendances at ED, reasons and response times by categories of need and by hospital site, which in turn supports us in both monitoring the impact of what we are doing and identifying trends in order to support future planning.

Philippa Coleman, Head of Mental Health Commissioning