Using geo-spatial analysis to determine the impact of a hospital service reconfiguration

Home » Case studies » Using geo-spatial analysis to determine the impact of a hospital service reconfiguration
We provided detailed geo-spatial analysis that was central to determining the impact on patients in a complex hospital service reconfiguration project, which was essential for commissioner assurance and assessment of the right decision for patients under the care of Manchester University NHS Foundation Trust and Northern Care Alliance.
Background
As a result of a process that began in January 2016 Manchester University NHS Foundation Trust (MFT) formally acquired the North Manchester General Hospital (NMGH) site and services through a commercial transaction on 1 April 2021. Salford Royal Foundation Trust (SRFT) acquired the remaining elements of Pennine Acute Hospital Trust through a statutory transaction on 1 October 2021 and became the Northern Care Alliance (NCA). As a result of this several complex services need to be disaggregated and provided at other sites. To do this, the trusts, working collaboratively, presented options for service change to commissioners and health scrutiny committees. The travel analysis data produced by Midlands and Lancashire CSU was central to the work undertaken to determine the impact on patients.
Action
MLCSU worked with MFT, NCA and commissioners to understand their requirements for travel analysis as well as the proposed service reconfiguration options. Using the Ordnance Survey Highways road network, TrafficMaster Speed data and public transport data from Basemap, a matrix was developed with travel times and distances from geographical areas and wards within a defined catchment to multiple hospital provider sites for various modes of transport. Maps showing travel times to hospitals and change in travel time for each proposed service reconfiguration were also provided. The methodology and output was presented to the Pennine Acute Complex Disaggregation Oversight Group. By providing a data matrix of journey times, it was possible to generate additional information to estimate the cost of travel for each service configuration.
Impact
The information is used to identify the existing travel times for patients who use the service and the impact upon those journeys. At the ward level, the general impact on patients can be calculated, in terms of distance and time for car journeys and modes of transport, interchanges and time for public transport. Combining these data points with government mileage rates and bus/tram costs allows for a further breakdown of the impact on patients.
The travel analysis is used in part to define the equalities impact assessment and quality impact assessment. As part of the overall case for change, travel analysis is one of the metrics considered in the options appraisal.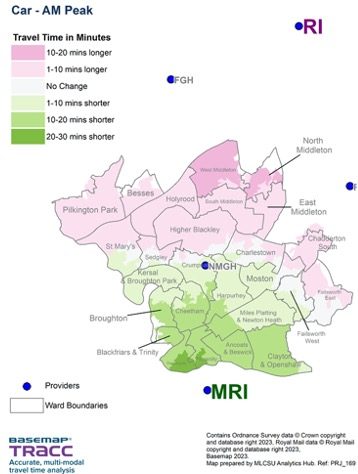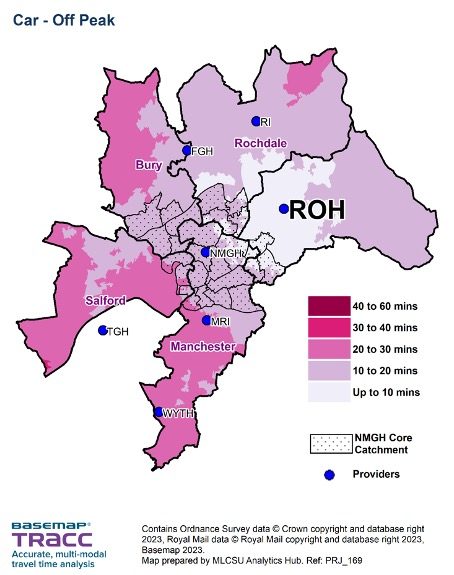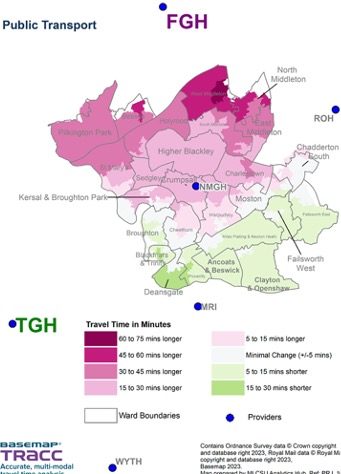 Customer feedback
The team from Midlands and Lancashire CSU were always happy to take the time to discuss with us the impact of our specification and how we could refine our ask to get exactly what we needed. The timescales were tight for delivering on this activity but at no point were we concerned about the quality of the output as we were kept up to date during our regular meetings. The information provided has been an essential part of commissioner assurance and assessment of the right decision for the patients that have traditionally been managed by Pennine Acute Hospital Trust but are now under the care of Manchester Foundation Trust and Northern Care Alliance.
Sophie Hargreaves, Director of Strategy | Manchester University NHS Foundation Trust