Tony Matthews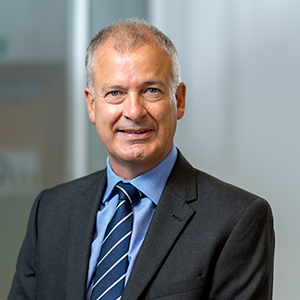 Tony is responsible for our corporate, financial and commercial services and, until recently, led on at-scale operational services for our central area. He has organisation-wide lead responsibility for customer financial services, business support (Carter) services and primary care support. Tony has over 30 years' experience working in the NHS.
A former primary care trust, area team and CCG finance director, Tony is a leading commissioner and expert in financial strategy and reporting. He has worked at a national level with NHS England and with multiple partners across health systems. Tony also has experience of working within the NHS provider sector. He brings a relentless focus on service delivery and is constantly looking to improve services for customers and patients alike.
Tony encourages staff to adopt the same approach and is always keen to ensure we meet customers' needs as far as possible. He uses his broad range of experiences – from across the healthcare sector – to turn theory into practice and convert strategy into operational delivery.
Tony is proficient at working across health economies and helping to broker conversations between partners to achieve system goals and objectives.
He made significant contributions to a 'whole system' redesign programme, encompassing a new hospital, and enhanced primary and community care infrastructure. This resulted in hospital activity being performed in primary and community settings instead.
Tony previously supported the national turnaround programme with NHS England specialised commissioning, successfully targeting delivery of a £300million QIPP programme in 2014/15. He has also led the financial turnaround of a primary care trust.
More recently, Tony has led on our response to support the Carter (productivity) agenda and the development of innovative solutions to support and enhance the infrastructure within primary care.