Prestigious award win for staff health and wellbeing strategy

Home » News » Prestigious award win for staff health and wellbeing strategy
We have been recognised by HR Magazine with an award for Best Health and Wellbeing Strategy as part of their HR Excellence Awards.
We were also finalists in:
Best Recruitment and Workforce Planning Strategy – for our Talent One recruitment service
Best Flexible Working Strategy – for our strategy of agile working.
The awards shine a light on best practice in HR. In the health and wellbeing category, judges noted the significant work we have done to support staff health and wellbeing, all of which has helped to strengthen the organisation by prioritising our people.
Highlighting the overall purpose and value for money, the magazine wrote:
"What is remarkable about this strategy, labelled outstanding by judges, was that it was delivered on a shoestring budget by a generalist team, driven by a passion for its people.
"Judges praised its clear focus on the business issue at hand and the engagement at every angle with its end goal of providing top-quality services to patients."
Key for our health and wellbeing strategy have been employee engagement and a people driven approach. Teamed with utilising our workforce data to identify pressing issues, this shaped a comprehensive plan of wellbeing activities and interventions. They are broadly framed under physical wellbeing, mental wellbeing and financial wellbeing, and include a large range of offers for employees to pick and choose.
To implement these changes as a golden thread throughout the organisation, we employed several enablers including:
Building a training and education campaign to help managers and employees better understand remote working, resilience and physical fitness
Weekly wellbeing sessions to discuss wellbeing tips and resources
A trained team of mental health first aiders
Enlisting health and wellbeing champions to push from below and members of the board to role model and communicate healthy behaviours from above
Embedding health and wellbeing into one-to-ones and appraisal documentation
Blogs and intranet forums.
The effect on staff wellbeing was evident when in the latest staff survey, we saw the number of people saying they had felt ill because of work related stress drop. Almost all (92%) said that they did not feel pressured by their manager to come to work when ill, and that they felt empowered to take informed decisions about their health (94%). There was also a significant drop in the number of days lost due to stress, anxiety or depression – 18% between March 2021 and June 2022.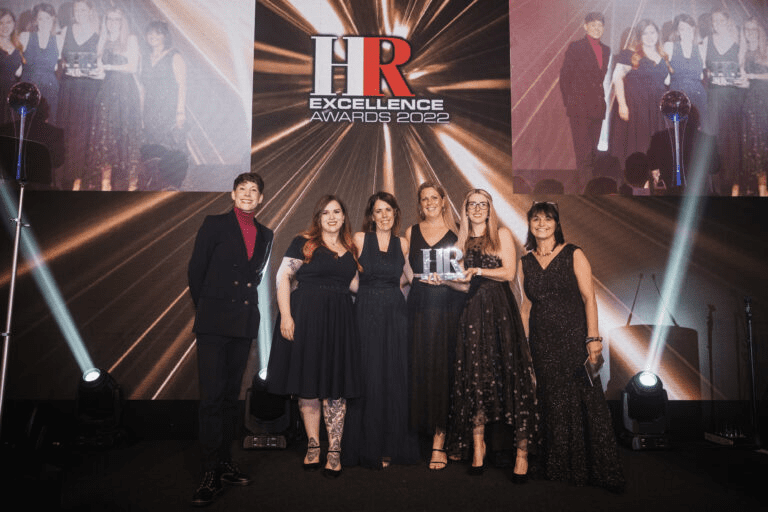 Fay Winstanley (second from the right), People and Organisational Development Manager, said: "We are absolutely thrilled to win this award, which reflects our commitment to developing and delivering a strategy that is based on data and staff feedback, and where we can accurately measure the positive impact of what we do.
"Moving forward, we need to ensure that we continue to have a strong focus on our people's wellbeing. We intend to build on our current offer, utilising data and employee engagement to deliver the right interventions and support at the right time. We are also looking at replicating our successful model at customer organisations."
Sarah Sheppard, Director of People, said: "This is amazing recognition for the team at a challenging time when we need to ensure that our staff are well engaged and motivated to achieve the high-quality work which ultimately impacts on patient services."