Blog: The sky's the limit for Lauren after starting her NHS career in Personalised Healthcare Commissioning

Home » Blog » Blog: The sky's the limit for Lauren after starting her NHS career in Personalised Healthcare Commissioning
Our Temporary Staffing Admin Bank is a great starting point for anyone looking for flexible, varied work within the NHS. We are proud to provide a supportive environment where recruits can learn and develop, and have opportunities to further their skills and career.
As part of future succession planning, the Personalised Healthcare Commissioning service recruited a number of young people through the Admin Bank. In this series of blogs, we meet some of them and hear their experiences.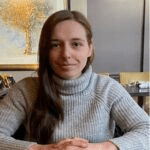 Lauren Harkness, Administrative Assistant, Lancashire and South Cumbria Individual Patient Activity / Continuing Healthcare Team
Back in 2020, I worked at a brewery as a Brewer and Operational Manager. Like many others, I was put on the furlough scheme at the start of the COVID-19 pandemic. I couldn't just sit on my hands when I was seeing the amazing work being done by the NHS, so I decided to get involved.
The bank work available at the NHS Midlands and Lancashire CSU (MLCSU) seemed like the perfect fit for me, providing the flexibility to continue with my project management studies and to get some job security whilst the brewery work was on hold. After a successful interview, I started a six-month contract as a Band 3 Admin Assistant with the Continuing Healthcare COVID recovery project. After two months, I had the opportunity to apply for a Band 4 admin position within the project – which I secured.
It has been an incredible experience. My skills have developed exponentially and I've gained a much better understanding of how the NHS worked. This drove my decision to pursue a long-term career in the NHS.
As the end of my Band 4 contract approached, I was amazed at the number of opportunities available to me as an MLCSU employee. I joined NHS England's oxygen COVID recovery project as a Band 5 Associate for three months, where I gained valuable experience working with NHS England and the Department of Health and Social Care as part of a major (and now award-winning) national project team.
I am now a Band 6 Project Manager working with my local NHS trust, and I couldn't have done this without the opportunities and skills I gained with MLCSU in just seven months.