MLCSU and the Transformation Unit come together
On 1 April, the NHS Transformation Unit (TU) joined our organisation to become an excellent addition to our wide range of specialist support for health and care organisations. The Midlands and Lancashire Commissioning Support Unit (MLCSU) is happy and excited to welcome the TU and 35 new members of staff.
In the first week of working together, we reflected on some of the benefits of merging our organisations.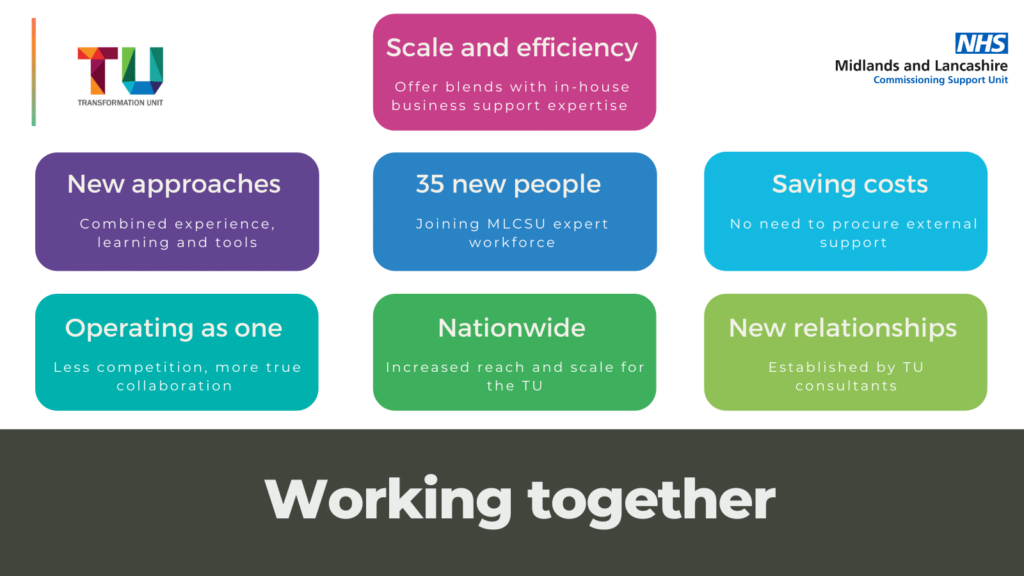 Benefits of working together include:
Scale and efficiency – the TU's blends well with huge range of in-house business support expertise by MLCSU
New approaches – working alongside each other creates synergies in combined experience, learning and tools
35 new people – a new group of highly skilled staff joins MLCSU's expert workforce
Saving costs – as part of MLCSU there is no need for the TU to procure business operational support externally to carry out its function
Operating as one – by working in true collaboration, we save time and money from competing against each other for similar work, and rather create holistic offers which combine our expertise
Nationwide – MLCSU has reach and scale nationwide which opens new opportunities for the TU
New relationships – established by its consultants, the TU's existing contact networks will be a welcome addition to our partnership pool.